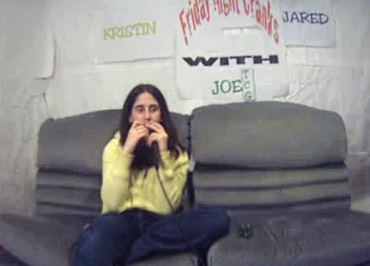 Post Date: March 29,
2008
Speakers: Kristin
Target: Alicia
Characters: Alyssa
Length: 6:57
Kristin prank calls a girl named Alicia and says she's Joey Noak's girlfriend. Alicia hangs up and Kristin calls back.
Just shut up, okay! - Kristin
You don't even know fucking shit okay, so leave me the fuck alone! - Alicia
Yeah bullshit, bullshit coz joey's with me right now-Alicia
Yeah mm hmm that's what you want you're trying to make think that he's with you but actually he's with me-Kristin
Bitch answer the fucking question answer the fucking question what's his middle fucking name bitch!!-Alicia
Its john-Kristin
Fine if you're really going out with joey then what's his middle name?-Alicia
WHAT!? What kind of question's that!?
Excuse me I want to know if your really with my boyfriend!!-Alicia
Just shut up!!-Kristin
its john
Shit-Alicia
what now?-Kristin
ok when's his birthday?-Alicia
you know what just shut up!!
-Kristin
TELL ME TO SHUT UP ONE MORE FUCKING TIME!!!!!!!!!!!!!!!!!-Alicia
You know what bitch!? Fucking call my cellphone one more time and I will fucking report you to the police!-Alicia
Shut up-Kristin
Don't tell me to shut up!!-Alicia
What are you gunna do?-Kristin
I WILL FUCKING COME OVER THERE And KICK YOUR ASS!!-Alicia
YOU DON'T EVEN KNOW WHERE I LIVE!!-Kristin
OH TRUST ME SWEETIE I'LL FIND OUT!!-Alicia
You could ask joey he's over every night-Kristin
Stop calling my fucking cellphone right now or you'll seriously have to deal with the fucking police and my brother in law is a fucking cop he'll fucking mess with you ok-Alicia
His birthday's October 21st-Kristin
Ok shut the fuck up don't fucking call me-Alicia
No wait just one more thing...AWWWWW MY GOD!!!!!!!!!-Kristin